The Holy and Ancient Wells and Springs of Gloucester: St Cynburgh's Well
The Cotswold area is justly noted amongst those who visit holy and healing wells as being a notable place, as can be seen from this blog. What is not very well known is that Gloucester itself had a notable well that of St Cynburgh's Well. It is not mentioned in Ancient wells, springs and holy wells of Gloucestershire by Skyking-Waters (1923) curiously enough as indeed is its legend of how it became holy.
How did the well arise?
St Cynburgh's Well is recorded in a local legend recorded in a Gloucester Abbey Lectionary, 15th century which is summarised in Historia Monasterii Sancti Petri from 1863–7. It tells how St Cynburgh, vowed to a holy life, fled from her royal family rather than marry. She arrived in Gloucester where she began working for a baker, whose wife was so jealous that she murdered the princess by chopping of her head and threw the body into a nearby well. When the baker, returning home and missing his assistant, he called for her and heard her voice answering from the well.
Miracles at the well
Her body was recovered and buried near it. A chapel was built over the well and it became a site of miracles and a medieval hospital was established at the site. This recorded as being dedicated in 1147, and appears in later records from 1267 onwards, with miracles of healing recorded there; it was near the city wall by the south gate. Archbishop Courtney ordered a new translation in 1390 and when the establishment was finally suppressed in the 1500s a local MP Sir Thomas Bell converted the site to an alms-house called St Kyneburgha's.
Who was St Cynburga?
The saint behind the legend is a bit of a mystery. She is thought to have been around in the late 600s. It is believed that she was the sister King Osric the founder of St. Peter at Gloucester Monastery. The King appointed his sister, Cyneburga, as the first Abbess of Gloucester. However, there was another St. Cyneburga of Castor in Northamptonshire and it possible they are one and the same. However, how the legend arose based on the association with the monastery is unclear.
A relics of the holy well?
A lead box in Gloucester museum is a curious relic of the saint's veneration. Said to have come from Woodchester Church it depicts the saint and another local saint said to have been the last Roman Bishop of the town, St Aldate. It is believed to have been used either to hold relics or as a container for holy water.  Did it contain water from her well one wonders and as such is the only relic surviving from this site.
A modern remembering of the well
This relic in Gloucester museum was at one time the only remembrance of this holy well then in 2011 an art installation was installed. Part of an £7m project which linked the city centre with the docks is the 16m (53ft) Kyneburgh Tower will was built in Kimbrose Square designed by British sculptor Tom Price to design it stating that according to the BBC New website it:
" told the story of a girl's journey from life to death and beyond…..I intended it to be both a spectacle and a place for quiet contemplation. Both artworks function like a metaphysical sundial. They point to the invisible histories we rarely seek out, but which permeate the landscape around us."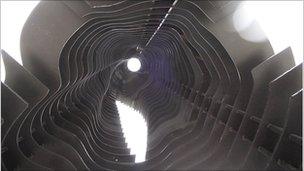 They recorded that:
"The artworks will be dedicated by the Dean of Gloucester Cathedral, the Very Reverend Stephen Lake, and the Reverend Canon Nikki Arthy as part of the official opening ceremony."
Perhaps a Dean who may have stood at a site once frequented by those seeking the holy waters of this lost and lamented holy well.
Posted on March 19, 2019, in Folklore, Gloucestershire, Royal, Saints and tagged Gloucester, holy wells, Holy wells blog, Holy wells healing springs Spas folklore local history antiquarian, Holywell blog, legends, Local history, Saints, St Kyneburgh. Bookmark the permalink. Leave a comment.