Monthly Archives:
September 2020
Many people visit the picturesque village of Dunster with its delightful market cross but tucked up an ancient cobbled lane which becomes increasingly muddy even in the height of summer, is the less well known St Leonard's Well, Dunster. Mossy and weather worn. An old wooden door appears almost from the wall to go where?
How old?
It is believed to be of 14th-15th Century construction, and formed the supply for the ancient town priory ( now ruinous ). It is mentioned in records of Edward III and Henry IV reign as 'Fontem sancti Leonardi'.
According to William Hamper 1808's topographical account of Dunster a 1377 deed of 1377 records a:
'subtus Grobbefaste, juxta fontem Sancti Leonardi'
and again deed of 1412/3 (ibid.) refers to strips in Dunster open field:
 'vocata above ye town, prope fontem Sancti Leonard'.
Hamper is the individual who associated the current structure with said well stating:
 "a spring, over which a conduit is built, on the side of Grabice, which I presume to be the Well of St Leonard".
One wonders whether the conduit and St Leonard's Well are really one and the same especially when conduit houses are very rarely placed over wells from my experience. Certainly by the time the magnus opus on the county's holy wells compiled his works Dom Horne was sure.  In his 1923 Somerset Holy Wells notes that:
"a small 14th or 15th-century building still stands over it, but the water is not used. It overflows into the lane by which it is approached, making it into a kind of water-course. This well may have been the water supply for the Priory, and it may also have filled the curious arched water trough in the southern wall of the churchyard."
It is known that the water was still utilised until the 18th century when in In 1777 the old pipes were re-laid and covered and new ones added. It thus filling not just the churchyard trough but another at the south end of the high street. Architecturally the structure is made of rubble with a cemented roof and a chamfered free stone opening with a segmental head and plain wooden door. It was locked when I first visited but a subsequent visit when the door was open showed why. There is a considerable depth of water within filling a rectangular squared off pool full of some form of algae!
Curative waters
Horne notes that until recently people still visited this well and used the water for strengthening the eyes but beyond this little is known. When locked the water could be sourced from a trickling pipe.
For those who visit St Leonard's well offers a moment of peace, lying picturesquely by the side of the lane, overshadowed by a thorn bush not adorned with rags I would add, a pleasingly quiet place in comparison to the hectic nature of Dunster in Summer time.

The Holy Well, Cranfield Co Antrim
The Holy Well at Cranfield near the old church on the shore of Lough Neagh. Pilgrimages were made to the well between May Eve and 29th June. The tradition of hanging healing rags and tokens still continues. Amber pebbles found in the well are said to have great healing powers. An annual Mass is carried out to bless the boats of the local fishermen.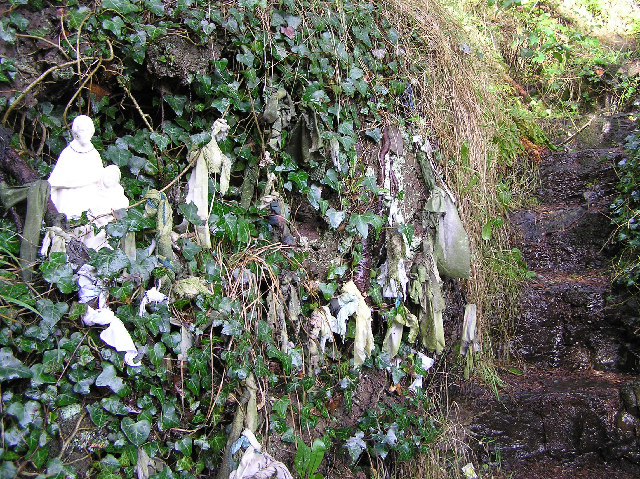 The Eye Well
At the base of the promontory below the ruined church is a spring, known locally as the "Eye Well", which is believed to have curative powers for eye ailments. It must be extensively used as I could see hundreds of clothes hung on branches of the trees. They would have been dipped into the healing waters. I gather that a prayer is said as the rag is left there. A descriptive stone is nearby 
H3462 : Path leading to the eye well, Dromore
 There used to be a holy well at Errigal, Ballygawley where people went to with similar complaints 
H5857 : Holy well, Gort
 And recently I noticed this holy tree at Navan Fort 
H8445 : Holy tree, Navan Fort

St Brigid's Well: Loch Dearg
An ancient site on the west bank of Loch Dearg, although the stone work here & cross wrapped in 'votive' rags is modern, this is the original site of a medieval wooden bridge to Saint's Island, said to be the original island of pilgrimage as opposed to the current Station Island.

The Abbey Well
Tobar na Bachaille: the Well of the Staff or Crozier. This ancient well is associated with St. Patrick and St Colmcille, who helped his cousin St Barron found Killbarron church. On August 15th people come here on pilgrimage to pray and some tie strips of cloth to a tree as votive offerings.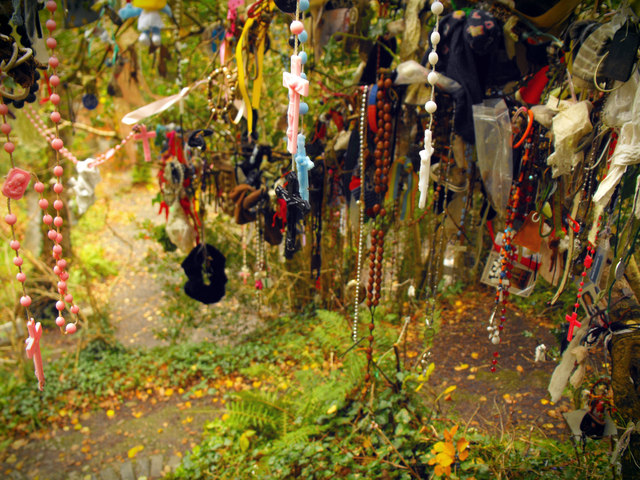 Tobernalt in Co. Sligo
Votive offerings hang at the holy well of Tobernalt in Co. Sligo

"Do not leave rags" notices, St Malachy's Well
One of the most evocative holy wells is perhaps one of the most unique fittingly. The first to record it was William Hals in his 1685-1736 History of Cornwall. He records that:
"In this parish is that famous and well-known spring of water called Holy-well (so named the inhabitants say, for that the virtues of this water was first discovered on Allhallows- day)."
So far not perhaps that unusual. But he continues:
"The same stands in a dark cavern of the sea- cliff' rocks, beneath full sea-mark on spring-tides ; from the top of which cavern foils down or distils continually drops of water, from the white, blue, red, and green veins of those rocks. And accordingly, in the place where those drops of water fall, it swells to a lump of considerable bigness, and there petrifies to the hardness of ice, glass, or freestone, of the several colours aforesaid, according to the nature of those veins in the rock from whence it proceeds, and is of a hard brittle nature, apt to break like glass."
Over a hundred years later,  John Cardell Oliver's 1877 Guide to Newquay romantically records:
"It is a somewhat curious place. After passing over a few boulders the mouth of the cave will be reached, where steps will be found leading up to the well. This rock-formed cistern is of a duplicate form, consisting of two wells, having a communication existing between them. The supply of water is from above; and this water, being of a calcareous nature, has coated the rock with its earthy deposits, giving to the surrounding walls and to the well itself a variegated appearance of white, green and purple. Above and beyond the well will be seen a deep hole extending into the cliff."
Thomas Quiller-Couch in Holy Wells of Cornwall
"This well has Nature only for its architect, no mark of man's hand being seen in its construction ; a pink enamelled basin, filled by drippings from the stalactitic roof, forms a picture of which it is difficult to describe the loveliness. What wonder, then, that the simple folk around should endow it with mystic virtues?"
Cures for children
Richard Polwhele, in his 1803 History of Cornwall states
"The virtues of the waters are, if taken inward, a notable vomit, or as a purgent. If applied outward, it presently strikes in, or dries up, all itch, scurf, dandriff, and such-like distempers in men or women. Numbers of persons in summer season frequent this place and waters from countries far distant. It is a petrifying well." 
Further details are given by  John Cardell Oliver
"The legend respecting the well is, that in olden times mothers on Ascension Day brought their deformed or sickly children here, and dipped them in, at the same time passing them through the aperture connecting the two cisterns ; and thus, it is said, they became healed of their disease or deformity. It would seem that other classes also believed virtue to reside in its water; for it is said that the cripples were accustomed to leave their crutches in the hole at the head of the well."
He adds:
"The virtues of this water are very great. It is incredible what numbers in summer season frequent this place and waters from counties far distant."

Why is it St Cuthbert's Well?
One account tells how Alchun, Bishop of Holy Island, Lindisfarne in 995 AD to take the body of previous bishop, St Cuthbert, to Ireland to escape Danish raiders. However, it is said that the weather drove them to the north coast of Cornwall where they were beached and settled at time and built a church at Cubert. They presumably rested at the cave and the relics touched the spring which then became holy and healing. After settling down in Cornwall, the Bishop and the relics finally set off to Durham where the saint was finally laid to rest.
This seems a fairly unlikely journey and a story made up by the ill-informed it would seem as the parish is named after St Cubert, an 8th century companion of St Carantoc, who came to convert the local pagans. What is interesting is that there are two holy wells in the parish. A more traditional chapel type being found on higher ground and I would hypothesis that this was constructed to sway local people from visiting the more primeval sea cave. Perhaps as that did not work local Christians applied the St Cuthbert story to the sea cave to attempt to finally push out the pagan connotations – the saintly name however still jars in this most primitive and ancient site.
Interestingly despite it being a wholly natural site it became a Scheduled Monument by Historic England in 2001