In search of rag wells: Irish rag wells a photo archive

The Holy Well, Cranfield Co Antrim
The Holy Well at Cranfield near the old church on the shore of Lough Neagh. Pilgrimages were made to the well between May Eve and 29th June. The tradition of hanging healing rags and tokens still continues. Amber pebbles found in the well are said to have great healing powers. An annual Mass is carried out to bless the boats of the local fishermen.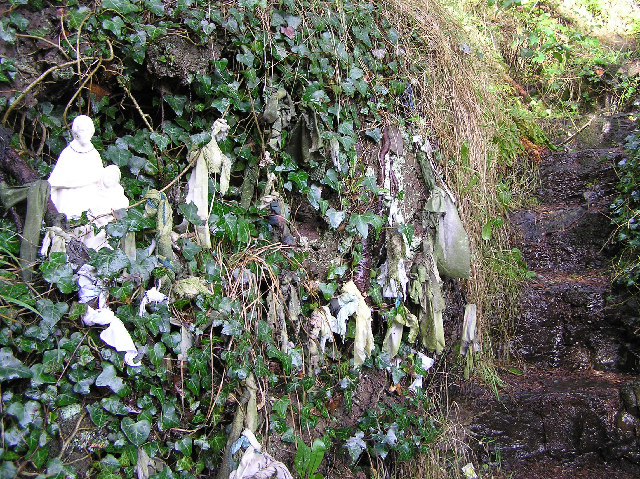 The Eye Well
At the base of the promontory below the ruined church is a spring, known locally as the "Eye Well", which is believed to have curative powers for eye ailments. It must be extensively used as I could see hundreds of clothes hung on branches of the trees. They would have been dipped into the healing waters. I gather that a prayer is said as the rag is left there. A descriptive stone is nearby 
H3462 : Path leading to the eye well, Dromore
 There used to be a holy well at Errigal, Ballygawley where people went to with similar complaints 
H5857 : Holy well, Gort
 And recently I noticed this holy tree at Navan Fort 
H8445 : Holy tree, Navan Fort

St Brigid's Well: Loch Dearg
An ancient site on the west bank of Loch Dearg, although the stone work here & cross wrapped in 'votive' rags is modern, this is the original site of a medieval wooden bridge to Saint's Island, said to be the original island of pilgrimage as opposed to the current Station Island.

The Abbey Well
Tobar na Bachaille: the Well of the Staff or Crozier. This ancient well is associated with St. Patrick and St Colmcille, who helped his cousin St Barron found Killbarron church. On August 15th people come here on pilgrimage to pray and some tie strips of cloth to a tree as votive offerings.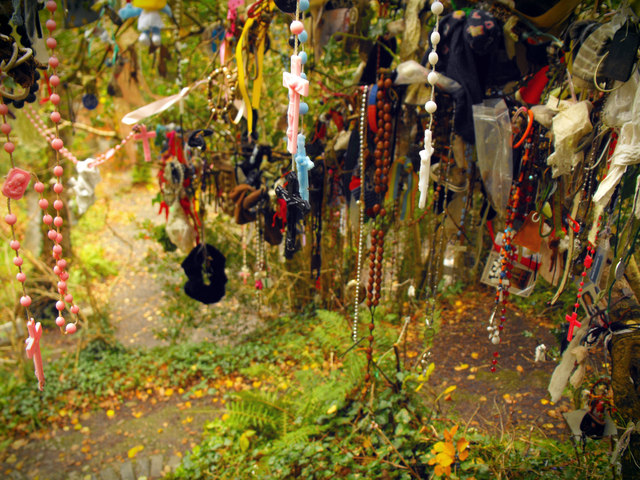 Tobernalt in Co. Sligo
Votive offerings hang at the holy well of Tobernalt in Co. Sligo

"Do not leave rags" notices, St Malachy's Well