Monthly Archives:
November 2020
On and off I have been surveying the holy wells of East and West Sussex which is an area which does not appear to have collected much academic interest. Thanks to myself and James Rattue Kent is now covered more than satisfactorily, ditto Rattue's Surrey and now Dorset, Hampshire and Sussex in a way await further exploration. Thus it is possible that new and interesting holy wells maybe found in these counties, ones missed by Jeremy Harte's 2008 magnus opus English Holy wells
Battle is such a place. It is a place I have visited many times and thought there should be a holy well there and indeed there was. However, the Wishing, Holy or Dr Graye's Well is described by one source  Her Grace the Duchess of Cleveland's account of the History of Battle Abbey as:
"a square opening five or six feet wide, enclosed by a massive stone wall nearly seven feet high; a flight of steps led up to it on either side, and at each angle was what he called a vase, or receptacle for flowers and votive offerings. The spring was conveyed to the other side of the church wall."
It was located:
"On the north side of the Cloister Garth stood the Holy Well, from which some writers have derived the name of Senlac, given to this place by Ordericus Vitalis. It is mentioned in Queen Elizabeth's time, as a place held sacred by recusants' :-whither many, especially women, resort, like a young pilgrimage, and call it Dr. Graye's well.'
Did this have an older history? The author suggests that its water gave Battle its old name of Senlac – possibly – but there is no evidence as such- and the origin of that name has itself been debated. What is more likely perhaps is that the spring provided the domestic water supply of the Abbey and later converted post Reformation as suggested above as a holy well needed to meet Catholic recusant use.
Who was Dr Graye?
The author continues to explain that Dr Grey was a priest, the Dowager Viscountess Montague's chaplain, a zealous Roman Catholic, who resided  at the Abbey in Elizabethan times. He was imprisoned by Sir Francis Walsingham. He appears a likely person to concoct a holy well out of an available spring.
What happened to the well?
The author continues to record that:
" It was afterwards known as the Wishing Well, and was unfortunately destroyed in the course of Sir Godfrey Webster's alterations, in 1814….and now furnishes the drinking water of the household; it is remarkably sweet and pure, and we appreciated it for its own sake long before we were made aware that it was the charmed water of the old Holy Well."       
And so it disappeared into obscurity after perhaps a brief period of fame – a holy well of the Catholic faith in hiding and as such of great interest.
The real sacred well of Battle?
However, another claimant to have an association with the Battle of Senlac is still to be found. King Harold's Well is enclosed in a circular well can be found in the front garden of Three Virgins Lane.
Local tradition records that the spring was drunk by King Harold before the Battle of Hastings. Whether it is originally a Saxon well is unknown it certainly does not look it. It is perhaps not the most attractive site but at least something remains to remind us of the days of King Harold.
In a quiet corner of Kent is one of the county's most renowned wells. A well known local legend is associated with St. Eustace's Well (TR 062 458) Hasted (1797 -1801) based his knowledge on the work of Roger of Wendover describes the well as follows:
"In it (Wye) is a hamlet, called Withersden, formerly accounted a manor, in which there is a well, which was once famous being called St. Eustace's Well, taking its name from Eustachus, Abbot of Flei,…..a man of learning and sanctity…to come and preached at Wye, and blessed a fountain there, so that afterwards its waters were endowed by such miraculous power, that by all diseases were cured."
Hasted (1797-1811) relates the properties of the well in detail:
"..from the taste of it alone, the blind recovered sight, the lame their power of walking, the dumb their speech, the deaf their hearing, and whatever sick person drank of it in faith enjoyed renewed health."
The legend set in 1189, during Godfrey de Luce's tenure at the vicarage. Pope Innocent III sent St. Eustace, a Norman Cistercian Abbot, who held his first meeting at Wye after a terrible sea journey. Thirsty, he searched for water, and finding this spring, blessed it, afterwards it attracted pilgrims, and a guardian priest was established. A specific legend tells of a woman, possessed of the devil, and 'swollen up as it were by dropsy' came to a priest, whom upon seeing her urged her to go the spring. This she did and no sooner had the women drunk the holy water, she recovered but vomited forth a pair of black toads, growing into black dogs, then black asses! The woman surprised vented her anger against these manifestations and the priest intervened, sprinkling the holy water on 'they flew up into the air and vanished, leaving no traces of their foulness.'
When I first became interested in holy wells – some would say obsessed – my interest being piqued by a copy of Janet and Colin Bord's 1984 Sacred Waters picked up in a Truro bookshop back in the 1990s and in it was St Eustace's Well. It was described as follows:
"The well is close to Withersdane cottage 3/4 mile southeast of Wye and reached along a lane by Withersdane hall. the well now has an air of neglect but in medieval times it was famous because it was visited by St Eustace when visiting the country. People visited for eye cures."
As the well was place with the Saint Edith and The Black Prince's Wells, both exceptional sites, I expected something on an ilk. With the book in hand and armed with a map I looked for the site, and looked and looked. I was expecting to find something beside the road at the corner where the map albeit a less than accurate landranger placed it. To no avail I could not find it. So finally I decided to ask a person in a nearby cottage thinking that perhaps the site was lost in the undergrowth or else unfortunately filled in. Especially as Robert Goodsall in his 1968 A second Kentish patchwork first visiting the site in 1966, found the site overgrown with saplings and weeds, but recently the site has been tidied up. There was report of steps and rails from the roadside down to the spring head with a stone nearby near the pond for leaving water vessels.
Upon asking I thus discovered that the person I was asking had it in the corner of their garden. The owner, a Mr. John Hilton and he gladly showed me the well. It consists of a shallow rectangular shaped pond, with its source enclosed within a square brick structure with a concrete top, to the north of the actual well basin. I was informed by the then owner Mr. Hilton that even in the 1976 drought, there was no apparent difference in depth, the only considerable change being the influx of agricultural fertiliser causing overgrowth in algae over the years.
Within recent years it has been reported that St. Eustace's Well had become very yet overgrown again. Perhaps due to a change of ownership it has again been cleared of bushes and this time it was noted that the water table had fallen due to water abstraction for mains supply nearby and thus turned the well more into a murky pool. However, I noticed that in a recent photo from Will Parson of the Pilgrimage Trust that it looks much more inviting with the steps down to it having been tidied up and the water looking clear and clean. It is clear from the planting that this back garden holy well is much appreciated.

The clootie tree at St Euny's Well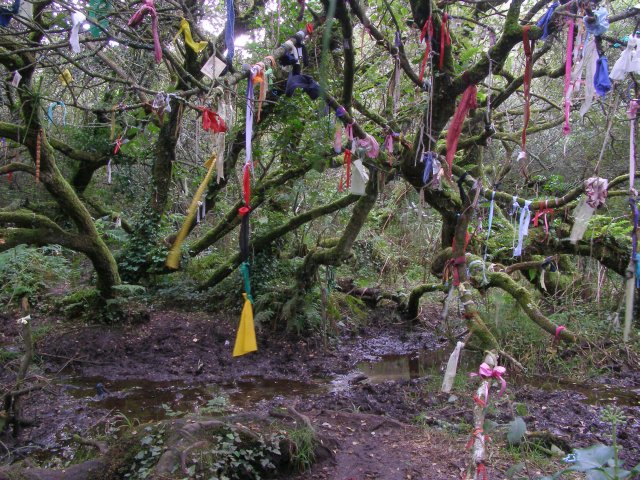 Cloutie tree near Madron Well
This tree is alongside the gravel path to Madron Well Chapel, and is hung with clouties (pieces of rags and clothing) which is a traditional custom originally carried out to ask the well spirits to cure illnesses and hurts. The actual Madron Holy Well is about 70 metres west of this point at SW44553274 but it is not easy to get to because of the wet conditions underfoot. It is much easier to continue along the path to the ruined chapel where there is another well basin which was also considered to be a holy well.

The cloutie tree near Madron Well
'Clouties' are strips of fabric which are attached to the tree near this holy well – as the fabric decays the ailment from which the supplicant is suffering is said to fade away.

The cloutie tree near Madron Well
'Clouties' are strips of fabric which are attached to the tree near this holy well – as the fabric decays the ailment from which the supplicant is suffering is said to fade away.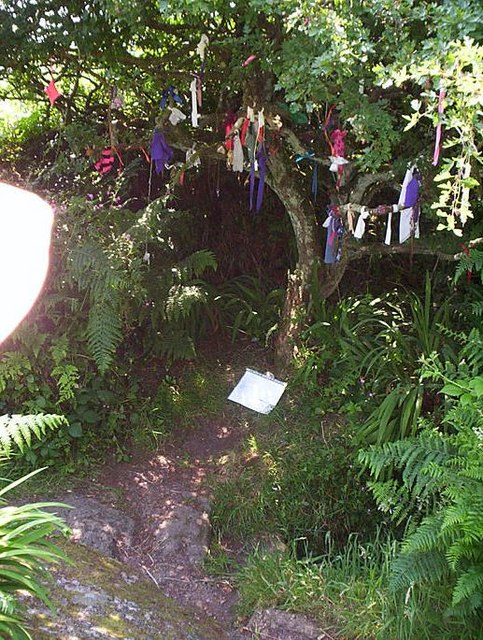 Sancreed Holy Well
This is the Cloutie Tree guarding the entrance to the Well.

St Credan's Well, Sancreed