Holy Well and Healing Springs Bibliography
Below is hopefully the most complete guide to holy and healing wells books. Any omissions please let me know!
General
English Holy Wells: v. 1: A Sourcebook  by Jeremy Harte (2008) The magnus opus of holy well research,   Jeremy tries to tie all the loose ends   together to give an overall   picture of the history of holy wells dispelling   some myths on the way.   With volumes II and III as valuable sources of country based sites and their   history. The most comprehensive guide, although not as comprehensive as   he would claim! Essential though
The Legendary Lore of the Holy Wells of England: Including Rivers, Lakes, Fountains and Springs by Robert  Charles Hope (1893) The first book on the subject, setting the template of country research and still an invaluable source. Low on analysis but high on antiquarian flights of fancy it is still a great book.
Holy Wells; Chapter one Church Treasury by Cuming Waters. A slim volume reprinted in the 1990s by Heart of Albion. Gives some interesting examples but very Victorian in outlook.
Holy Wells by Walter Clifford Meller (1923) A slight review of the subject and generally only available as a facsimile copy.
The Holy Well and the Water of Life by R.A. Courtney (1916). Very rare piece, copies usually go for over 100 pounds
Sacred Waters: Holy Wells and Water Lore in Britain and Ireland by Janet Bord and Colin Bord (1986) It was this book bought back in a Truro bookshop in the 1980s which got me into the subject. A brilliant read, over emphasises some of those neo-Pagan views too much sometimes, but does give an excellent overview. Very useful gazetteer at the back too which I still use!
Cures and Curses: Ritual and Cult at Holy Wells by Janet Bord (2008). A useful dictionary response to the subject and an excellent source book. A brief gazetteer at the back mainly as an introduction and a taster for the book below.
Holy Wells in Britain: A Guide by Janet Bord (2008) A worthy and more useful perhaps for the researcher follow up from   Sacred Waters.   An excellent county by county guide using knowledge   discovered since that eponymous title including some of my work but too early for my recent   research.
 The Living Stream: Holy Wells in Historical Context by James Rattue (2001) First authoritative attempt to get an overall  analysis of the significance of holy wells and associated water bodies to society and history. Well written and although some authors disagree with   some of the points, it is an essential read for anyone interested in the   topic.
 The Water of Life: Springs and Wells of Mainland Britain by Ian and Frances Thompson (2010) The authors give a scholarly  approach to the subject selecting wells to emphasize key phases in the use   of  water for ceremonial and domestic uses. Very readable and should be more widely available as a good introduction to the subject.
Holy Wells of the British Isles by Christina Martin (2000) An attractive book of illustrations made by the author with notes and a brief gazetteer. A good gift book but not very informative.
Sacred Springs by Christina Martin (2008) Another attractive book of illustrations made by the author with notes and a brief gazetteer. A nice gift book.
The Magic and Mystery of Holy Wells by Edna Whelan (2002) Edna's research into Yorkshire holy wells see below is perhaps better known, however she draws upon this and other snippets for   other UK sites to give a quick guide as the title says their magic and   mystery. A bit heavy on the New Age neo-pagan interpretations perhaps but a good read.
Holy Wells: A pilgrim's prayer companion and guide by Brendan O'Malley (2014). A prayer book and perhaps only for pure Christian use, but one with notes on sites although they are largely based on Janet Bord's work and add little. Yet it does for fill a gap in the devotional needs
Sacred Wells: A Study in the History, Meaning, and Mythology of Holy Wells & Waters by Gary R. Varner (2009) A global prospective good for American sites with a good comparison with other cultures but generally sourced from other books and some of which not that academic. The British section is woefully full of spelling mistakes..quite comically so. Having said this it's certainly worth purchasing and a good first attempt of a global perspective if a little romanticised.
Water from the Sacred Well by Gary R. Varner (2010). Not yet read and not as generally available as the above, a further exploration.
Water a spiritual History by Ian Bradley (2012) An academic overview which I have yet to purchase.
Holy Wells and Sacred Water Sources in Britain and Ireland by Arthur Gribben (1992). An expensive book which attempted back in 1992 to provide a bibliography, worth picking up if seen but it is just a bibliography!
Lesser known Holy Wells and curious water supplies by Ian and Frances Thompson (2015)
A History of Water, Series II, Vol. 1: Ideas of Water from Ancient Societies to the Modern World (History of Water: Series 2) by Terie Tvedt and Terje Ostigard (2009) Academic work which discusses water lore.
Severed heads in wells: an aspect of the well cult by Anne Ross (1962) Academic work on this much discussed topic
Spas
A Treatise on the Chemical History and Medicinal Powers of Some of the Most Celebrated Mineral Waters by William Saunders (1805)
The Natural, Experimental, and Medicinal History of the Mineral Waters of Derbyshire, Lincolnshire and Yorkshire by Thomas Short (1734) Very expensive as first edition by available on Google books as free pdf.
A Natural, Experimental, and Medicinal History of the Principal Mineral Waters of Cumberland etc by Thomas Short (1740)
English Spas by William Addison (1951) a good introduction with a section on holy wells.
Spas That Heal by William Thomson (1978)
Discovering Spas by R.L.P and Dorothy Jowitt (1974). Surprisingly very informative for a small book as many Shire books are of course.
Hundred British Spas by Kate Denbigh (1983) A very easy read and with some excellent maps. An excellent introduction to the subject with some mention of holy wells.
British Spas from 1815 to the present Day by Phyllis M Hembry and Cowie (1997) a historical overview of spa usage from a social point of view.
Healing Waters (Ashgate's Geographies of Health Series) by Ronan Foley (2010)
Well dressing
The Beauty and Mystery of Well Dressing by Crichton Porteous (1949)
Ireland
The holy wells of Ireland: Containing an authentic account of those various places of pilgrimage and penance… by Philip Dixon Hardy (1836). Impossible to get hold of and rather biased. A pdf is available here.
Irish Saints, Shrines and Holy Wells by Mac (1980) I've not yet read this so I'll update later when I do.
The Holy Wells of Ireland by Elizabeth Healy (2001) An enjoyable personal journal of some of the major sites in the   county. Helpful with locating existing site but would have benefited with a gazetteer.
The Holy Wells of Ireland by Patrick Logan (1981) A fairly comprehensive overview of the subject with some excellent observations, but again lacking a gazetteer.
Fish Stone Water: The Holy Wells of Ireland by Anna Rickard and Liam O'Callaghan (2001)  A  delightful book a cross between a personal exploration of   the ceremonies and   customs associated with a wide range of sites and some very evocative photos.   Took this to Ireland and it really does  sum up the country brilliantly. A great coffee table book too.
Crossing the Circle at the Holy  Wells of Ireland by Walter L. Brenneman, Mary G. Brenneman and Walter L. Brenneman   Jr (1995) The reviews are not favourable, but it is an okay work. Suffers from some flights of fancy and lack of academic rigour but for some readers that will right up their street I guess.
 Rite Springs Eternal: Religious   Confluence in the Origins of Irish Holy Wells by Silas John Mallery  (2011)  I've not yet read this so I'll update later when I do.
 Irish Pilgrimage: Holy Wells and Popular Catholic Devotion by Michael P. Carroll (1999) An excellent academic book, useful as a source   book for a more scholarly examination of the subject. A very good academic read.
County Limerick
The Holy Wells of County Limerick by Kevin Danaher (2005)
County Louth
Stone and Tree Sheltering Water: Exploration of Sacred and Secular Wells in County Louth by Connolly, Susan and Moroney, Anne-Marie (1998)
County Sligo
Holy Wells of County Sligo by Sue Elizabeth Stampe (1966)
County Cork
The Holy Wells and religious cults of County Cork by Noella T Dowling (1989) Strictly speaking a thesis but bound book copies do turn up!
Tubar beannaithe by Mary Murphy; Chris Whiteside (1991)
St. John's Well by Mary. O'Brien (1987)
Reassessing the Irish holy well tradition by Paddy Doyle (2006) Strictly speaking a thesis but bound book copies do turn up!
County Tipperary
A study of popular religion with an emphasis on a selection of holy wells from south county Tipperary by Keiran R Walsh (1995) Strictly speaking a thesis but bound book copies do turn up!
County Waterford
Healing, historic and Holy Wells of Waterford by Olive Keane (2018) Not yet seen this book but looks very promising. Available fron olivekeane.ok at gmail.com
County Donegal
The Holy Wells of Donegal by Enri O Muirgheasa (undated)

Holy wells of Inishowen John F. Fitzgerald (1983)
Fingallian Holy Wells by Petra Skyvova (2005) A good little guide to County Dublin sites.
County Clare
Holy Wells of County Clare by Michael Houlihan (2015) a copy can be purchased here michaelhoulihan5 (at) gmail.com
County Meath
Three holy wells Trim, Co. Meath by A. Carney (2002)
Meath Holy Wells by Noel French (2013) I've not yet read this so I'll update later when I do.
The Holy Wells of Ireland in Irish Essays: Literary and Historical, John Healy (1908) available at http://www.libraryireland.com/HealyEssays/Contents.php
Dublin
Memorial stones and holy wells of Tallaght by Michael Kavanagh
Ancient and Holy Wells of Dublin by Gary Branigan (2012) I cannot recommend too highly see here.
The Origins of Ireland's Holy Wells by Ray Celeste – does what Harte does for England.
 Scotland
Scottish Healing Wells:  Healing, Holy, Wishing and Fairy Wells of the Mainland of Scotland by Ruth Morris and   Frank  Morris(1982) A   brilliant and so far surprisingly   only attempt to produce a comprehensive  county by county guide. An essential book if a little difficult to track down.
Folklore of Scottish Lochs and Springs by James M. MacKinlay (1895)  A romanticised work by a good compendium of traditions much in the shadow of Fraser's Golden Bough and generally available as facsimile or here.
Holy wells: Scotland new photographs and old tales by Phil Cope. Another delightful picture book on Scottish holy wells
Argyllshire
The sacred waters of  Argyll:  exploring healing waters within their archaeological landscapes by Alex Alexander and Allan Stroud (2017)  haven't tracked down a copy yet it was due out in 2015 also called Healing springs of Argyll. It uses archaeology to discuss the sites and also acts as a field guide should be good!
Western Isles
The Healing Wells of the Western Isles by Finlay MacLeod (2004) A delightful pocket book detailing all the sacred wells in this remote part of Scotland. Hopefully this could be   the trailblazer for a series of countywide gazetteer.
Wales
The Holy Wells of Wales by Francis Jones (1955) One of the three essential reads of the subject, even if   you don't ever visit Wales!  I've used his classification system. The   first book to attempt an academic   review of the subject and although   it is nigh on impossible to successfully use as a field work book it does give valuable pointers to sites.
Sacred Springs: In Search of the Holy Wells and Spas of Wales by Paul Davis (2004) A well   researched and  illustrated with good sketches and photograph. Not comprehensive but   the author selects the best sites for newbies and old hands to visit.   Recommended.
Spas and Springs of Wales by Audrey Doughty (2001) Mainly focusing on spas as the title suggests and more a   history of the major sites.  A good read covering a less studied area.
Sacred Wells In Wales A Paper by Sir J Rhys (1893) basically a paper, a transcript of which is available by clocking the link but something pressed as a small book.
Some healing and holy wells of Wales Marshall W. Annear (1975) never seen a copy so unable to comment
Ffynhonnau Cymru: Ffynhonnau Brycheiniog, Ceredigion, Maldwyn Maesyfed a Meirion v. 1 By Eirlys Gruffydd and Ken Gruffydd (1997) Welsh language guide to wells in these counties.
Ffynhonnau Cymru: v. 2 (Llyfrau Llafar Gwlad) by Eirlys Gruffydd and Ken Gruffydd (1999)
Sacred Welsh Waters by Chris J. Thomas (2005) Despite the author going into familiar territory, this is an extensive work of 120 sites and thus essential, especially as in a few examples the author has visited nearly every site. A pdf Kindle version is also available for a fraction of the price.
Well Kept Secrets: New Photographs of the Holy Wells of Wales by Phil Cope (2007). The authors much more difficult to find first foray into the subject. I've not seen this one so I do not know how this compares with his latter excellent work.
 Holy Wells: Wales: A Photographic Journey by Phil Cope (2008) A great year for the subject, this is a   beautiful book. Perhaps a little too   large and lovely to take into the field but an emotive attempt to connect via   luminous photos the spirit   and magic of sacred waters. An essential coffee  table book and one to get out for the non enthusiast.
Borderlands: New Photographs and Old Tales of Sacred Springs, Holy Wells and Spas of the Wales / England Borders by Philip Cope (2013). Another great work, beautiful and covering the borders on both sides. Again a must have.
Ancient wells of the Llyn By Roland Bond. An excellent guide to the wells of the peninsula not all of them holy or healing but fascinating nevertheless. If you intend visiting north Wales it is a must.
Clwyd
Holy Wells of Clwyd by (1985) by Louise Jones and John David Williams. A short book but one with some valuable photos of obscure sites

St. Winefride, or, Holywell & its pilgrims by Mary Magdalen Taylor (1922)
St. Winifride and her Well. The historical background by Thomas Charles Edwards (1962)
St Winifred, Her Holy Well and the Jesuit Mission c650-1930 by T. W. Pritchard (2009)

Authentic documents relative to the miraculous cure of Winefrid White, of Wolverhampton, at St. Winefrid's Well, alias Holywell, in Flintshire, on the 28th of June 1805by John Milner (1806) often available as print on demand an obscure 'propaganda piece'
Unholy Water? Ffynnon Elian 'The Cursing Well.' By Jane Beckerman (2017) Much awaited monograph on this infamous well by its current landowner and restorer.
England
Bedfordshire
Survey of ancient buildings II Bygone Water Supplies by J. Elliott Steele (1932) a ground-breaking guide to named and otherwise water supplies includes a large number of holy and healing wells in this little surveyed county. Rare as hen's teeth though.
Berkshire – no book!
Buckinghamshire
The Holy Wells of Buckinghamshire by James Rattue (2003) James produces the first book from   years of well research and an excellent volume it is too! A county gazetteer including all well sites, whilst I wouldn't necessarily call them all holy  wells as the title suggests, hence my volumes healing wells and….subtitle, I   cannot fault the work but in. Essential especially as it covers a county in   an area, the Home Counties, poorly covered, before.   Hope (1893) only had one site!
Cambridgeshire
Holy Wells and healing springs of Cambridgeshire and the Isle of Ely by R. B. Parish The eighth of my volumes and obviously the most useful book on the subject in the county.
An Account of the Somersham Water in the County of Huntingdon by Daniel Peter Layard (1767)
Somersham Spa – studies in local history 2 by Andrew Lee (2002)
Cheshire – no book yet!
Cornwall
Legends of Cornish holy wells by Nicholas. Hare (1889) Never seen this book so not sure if it is an extracted article
Cornwall's Holy Wells their Pagan origins by R. A. Courtney (1997) a facsimile print from an obscure chapter see above
Holy Wells, Cornwall: A  Photographic Journey  by Phil Cope ( 2010) Book number two in his evocative photographic series. Informative as it is beautiful another book which crosses academic work with the coffee book. Essential.
Fentynyow Kernow: In Search of Cornwall's Holy Wells by Cheryl Straffon (2005) Culmination of the   author's previous three volumes on ancient sites in the county.   Perhaps a bit too New Age neo-pagan in parts, but as this is Cornwall I am   sure we can excuse this. Absolutely essential if visiting I love it.
Ancient and Holy Wells of Cornwall by Mabel Quiller-Couch (1894) An early trail-blazer, beautifully   illustrated and well written. Remains the   source book for the county   and surprisingly still a useful source book.
Secret Shrines: In Search of the Old Holy Wells of Cornwall by Paul Broadhurst ( 1991) A rare beast   produced at first in a limited edition subscription with a small print run afterwards. A lovely book part history part gazetteer with some delightful stuck in photos. A bit New Age again, but enjoyable.
Holy Wells of Cornwall by A. Lane-Davies (1970) First book to re-evaluate and re-visit the topic in   the county (and first generally since Jones work in 1955), this is an excellent gazetteer with some very useful photos which still is the   only source of photos for these sites.
Holy Wells: A Pilgrims Guide to the Holy Wells of Cornwall and Their Saints by J Meyrick (1982) Twelve years on and this work builds upon the above to produce the most comprehensive book so far with excellent instructions and not just focusing on the picturesque.   Again with excellent photos.
Healing Wells, Cornish Cults and Customs by P.O. Legatt and D.V. Legatt ( 1988) An attempt to look   at the topic in the joint approach of medicinal waters and   custom. Not one hundred percent sure it works but with excellent notes and photos in adds rather than detracts from the cannon of work on the subject to provide a rarely found guide.
Sacred & Absurd: Votive Offerings at the West Penwith Holy wells by William Arnold Delightful little monograph of photos of the weird and wonderful objects left at Cornish holy wells. Very little writing, indeed nothing about the wells but a great testament to what appears to be a growing and somewhat controversial custom. Limited to 50 copies.
 Cornish Saints and Holy Wells: Volume 1 by Helen Fox (2016)
Cornish Saints and Holy Wells: Volume 2 by Helen Fox (2017)
Cornish Saints and Holy Wells: Volume 3 by Helen Fox (2019)
St Clether Holy Well by R. Gladwell (1990). A useful little booklet
Legacy of a Cornish Saint: Guide to St.Clether Church and Holy Well (1996) by Vanda Inman
Cumbria
Cumbrian Holy Wells: A Survey of the History and Legend of Ancient Water Sources in Cumbria by Jim Taylor Page (1990)A well written analysis, with despite being published by a Catholic   society is not overly so in its approach.  With an interesting gazetteer including a number of different aspects.   Includes some good photos and useful as a   starting point for a fuller county guide.
Holy Wells of Cumbria by Gill Edwards (2009) An excellent attempt to provide a field   guide to some of the best sites in the county and clearly a starting point to some more scholarly work. Each site is   well described and has a photo. Despite the author's association with holistic medicine and   the like this book does not suggest so. Sadly the author recently died and one hopes that the good work will be continues by her colleagues.
Springs of Living Waters: The Holy Wells of North Cumbria by Father John Musther. (2015) This definitive book on the holy wells in North Cumbria, UK, details around 70 holy wells; there are also notes on the 'lost' holy wells.
Derbyshire
Ancient Wells and Springs of Derbyshire by  Peter J. Naylor (1983) An interesting book which includes   some holy wells but   mostly spa springs and touches upon the allied subject of   well   dressing. However, most of it appears to be concerned with industrial  uses and water supplies. It's an okay book, but with a title like that you'd  expect more!
The Holy Wells and Healing Springs of Derbyshire: A Gazetteer and Field Guide to Holy Wells, Mineral   Springs, Spas and  Folklore Water (In Search of England's Holy Wells) by R. B. Parish   (2011) The fourth of my volumes and obviously the most useful book on the subject in the county.
Buxton Water: History of Buxton the Spa by Mike Langham (1986) a very good overview of its ancient and modern history.
Devon
Secrets of the Hidden Source: The Search for the Ancient and Holy Wells of Devon by Terry Faull (2004) Terry produces an excellent guide to this under-researched county with   region by region guides. With useful instructions and photos this is a useful if rather odd shaped and too beautiful field guide. My only criticism from a research point of view that it only considers extant sites in any detail, but that's a minor problem. Essential.
Walking Between Worlds: A Secret Little Book of Devon's Ancient and Holy Wells by Alex Atherton (2016) A delightful looking book which has some great illustrations of the county's holy wells. Available from http://alexatherton.co.uk/meldonprojectwalkingbetweenworlds.html
Brannoc's Chapel and Well, Braunton, N. Devon by John Stephan (1959)
The Story of Our Lady's Well, or Lidwell Chapel by Frank Parsons (1991) A nice monogram on the site.
Dorset –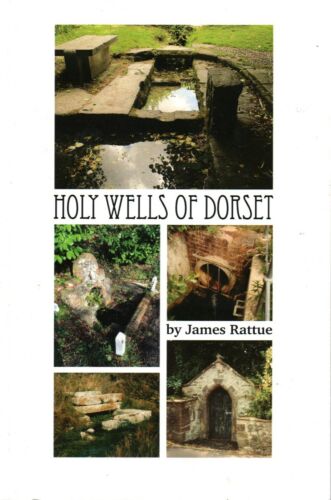 Holy Wells of Dorset by James Rattue Finally after some encouragement James Rattue puts his notes on this much under investigated county into press. An invaluable addition
Essex
Mineral springs of Essex by Christy and Miller (1910) A rare compilation of their works in the Essex Naturalist. With useful photos,   chemical analysis and   histories this is the essential starting point for   research in the county, although despite the dubious Chad's well, does not really consider holy wells.
Essex Mineral spas and mineral springs by Ronald and Ann Covell (2008) Coming   into press the same year as my work below, this is nevertheless still dependent on Mineral springs  and spas and both works are clearly essential   (especially below). Very informative histories of the sites with a good   selection of prints and photos.
Holy Wells and Healing Springs of Essex: A Gazetteer and Field Guide to Holy Wells Mineral Springs Spas and Waters with Associated Folklore by R. B. Parish (2008) Despite typo (Polslore indeed!) my first volume covers a county very poorly covered county and includes more holy wells than the above.
The Running Well mystery by Andrew Collins (1983) A great monogram on the rediscovery of this important Essex site.
         Gloucestershire
 Ancient wells, springs and holy wells of Gloucestershire by Skyking-Waters (1923) Perhaps the best pre-1980s book on the subject, copiously illustrated and authoritatively written. It is very readable and still very useful as a field guide and a source for further research. It is a shame he died   before   finishing his Yorkshire work.
Hampshire
St Lawrence's Well: A Fragmentary Legend of the Isle of Wight, By Henry Brinsley Sheridan (1845) see downloads. A poem telling of the legend but interesting.
Herefordshire
 The Healing wells of Herefordshire by Jonathan Sant (1994) A delightful book which combines histories of the sites with a field guide with copious illustrations and photos. I found this very useful in my explorations into the county with its clear readable approach. Recommended, if a little   difficult to find.
The Sacred Stones, Sacred Trees, and Holy Wells of Hay and the Neighbourhood by C.G., Portman (1907). Should be freely available as out of copyright but I have yet to find it.
Hertfordshire
Holy Wells and healing springs of Hertfordshire: : A Gazetteer and Field Guide to Holy Wells Mineral Springs Spas and Waters with Associated Folklore by R. B. Parish (2008) Second  volume in the series. The only book to have covered the subject in this county and despite  missing some sites, they'll be in the gazetteer appendix  in the Huntingdonshire volume, a near comprehensive guide.
Huntingdonshire
Holy wells and healings springs of Huntingdonshire by R. B. Parish The nineth of my volumes and obviously the most useful book on the subject in the county.
Kent
The Holy Wells of Kent by James Rattue (2003) James's second book, with some help from me kindly acknowledged at the start.  This is another top notch guide. Not exactly comprehensive, I found   another 10 sites   after it went to press and hence my plan to release my version in 2014! Buy both!
Holy Wells and healing springs of Kent by R. B. Parish (2014) The final volume now available.
The Well of Our Lady by Robert Smith (1986) A nice little guide on this lost holy well by the Ladywell Village Society. Worth a look and a good example of how other monograms on wells could be written.
 Lancashire
The Ancient Crosses and Holy Wells of Lancashire. With notes on the pre-Reformation churches, monastic institutions…by Henry Taylor (1906) A great pioneering book and invaluable academic survey.
The ancient  crosses and wells of Lancashire – a revised version by Henry Taylor (1994) The  original being impossible to get and very expensive if tracked down, this abbreviated version provides good details on the sites.
Henry Taylor, The Ancient Crosses and Holy Wells of Lancashire – A Revised Version I: Lonsdale Hundred by A.J Noble and J.A. Hilton (1999)
Henry Taylor, The Ancient Crosses and Holy Wells of Lancashire – A Revised Version II: Amounderness Hundred by A.J Noble and J.A. Hilton (2002)
Henry Taylor, The Ancient Crosses and Holy Wells of Lancashire – A Revised Version III: Blackburn Hundred, by Noble, A.J., and J.A. Hilton (2004)
Henry Taylor, The Ancient Crosses and Holy Wells of Lancashire – A Revised Version IV: Salford Hundred by A.J Noble and J.A. Hilton (2004).
Henry Taylor, The Ancient Crosses and Holy Wells of Lancashire – A Revised Version V: West Derby Hundred by A.J. Noble, J.A. Hilton, and W.A. Varney  (2006)
Henry Taylor, The Ancient Crosses and Holy Wells of Lancashire – A Revised Version VI: Leyland Hundred by A.J  Noble,., J.A. Hilton, M. Panikkarr and W.A. Varney, (2007)
Leicestershire
Holy Wells and springs of Leicestershire and Rutland by Bob Trubshaw (1990) One of the first works post Sacred   Waters, heavily resonant in New age nonsense   perhaps and includes   sites which in no way anyway like holy wells such as dragon pump! Yet it is the first work to investigate a little known county for the subject. I'm hoping to revisit this county, and this is still an essential book
Lincolnshire
Lincolnshire  springs and wells – a descriptive catalogue by Ian Thompson (1999) A very good field guide covering more than just holy and healing sites but a   wide range of significant sites. An excellent field guide with good   instructions. My only criticisms are a lack of photos especially with some sites it would have helped and that despite a piece of analysis at the end it really only covers extant sites.
Holy Wells and Healing springs of Lincolnshire : A Gazetteer and Field Guide to Holy Wells Mineral Springs Spas and Waters with Associated Folklore by R.B. Parish (2012) The essential field guide and history of the county, a number of sites are re-discovered. Essential.
The "Holy well" at Low Burnham and the site of the battle of Maserfield, 641 A.D by Peter J. Hills (1985)
Middlesex
Springs, Streams and Spas of London; History and Associations by Alfred Stanley Foord (1910) A     brilliant book full of historical notes, although sometimes it does ramble, a large number of sites are covered and there are some very good plates   and   photographs. A book of its time and still influenced by Victorian   fancies it   is never the less a great book.
Old London Spas, Baths and Wells by Septimus Sutherland (1915) Wait all that time and two books on the topic arrive almost at the same time.  Despite Foord appearing to mopped the subject up, the great named Septimus,  builds upon this work and produced an even more readable and useable  guide with a good series of photos. A beautiful book and well set out.
Holy Wells and healing springs of London and Middlesex by R. B. Parish The seventh of my volumes and obviously the most useful book on the subject in the county.
 Spas, Wells, and Pleasure Gardens of London by James Stevens (2010) A new book, which I have yet to read and on my Christmas list.
Norfolk 
Holy Wells and healing springs of Norfolk by R. B. Parish The tenth of my volumes and obviously the most useful book on the subject in the county.
Taking the Waters in Norfolk by Mary Manning (1995) a very good introduction to Norfolks spas, mineral springs and the main holy wells. Not exactly comprehensive but very well researched. A paper from the Norfolk Industrial Arch.Soc.
Holy Wells and Ancient Crosses of Norfolk and Suffolk by Michael Burgess (1978) East Suffolk & Norfolk Antiquarians Occasional Paper 2. A rare and valuable item which I have never seen for sale!
Northamptonshire
Peculiarities of Waters and Wells. How they were explained 200 years ago and how they are explained to-day. Northamptonshire holy wells. Northamptonshire spas by Beeby Thompson (1915). One first works to record and research via field work our holy and healing water histories. The author did copious field work and its very comprehensive with some very useful photos and drawings.
Holy wells of Northamptonshire by Mark Valentine (1988) Almost impossible to get hold of, this privately   published work by Source, the short   lived and rather erratic holy   wells journal is an excellent guide to a little   studied county. Misses having pictures but worth picking it.
Nottinghamshire
St Ann's Well and other medicinal and Holy Wells of Nottingham by R.W. Morrell, Syd Henley and Paul Nix (1987) A great little book, focusing on St. Ann's Well and the city of Nottingham's wells. Real resource for a city study.
Nottinghamshire Holy Wells And Springs by R W  Morrell(1988) The second of Bob's excellent trail-blazing   works. Despite missing quite a lot of sites and some errors this is nevertheless a worthy book and if you have the latter Holy Wells and healing springs of Nottinghamshire below this is too  essential.
Holy wells and Healings springs of Nottinghamshire : A Gazetteer and Field Guide to Holy Wells Mineral Springs Spas and Waters with Associated Folklore by R. B. Parish (2010)Third   volume in   the series, I was at first rather nervous of covering the county as     Bob had done it not that long before, however as I begun it became clear the   previous work was far from comprehensive and lacked appropriate   field  notes and photos. I am glad I did because I found double the number of sites of that work!
Robin of St. Ann's Well Road by David Greenwood (2007) a great local monograph by the man who rediscovered St Ann's Well's site.
 Shropshire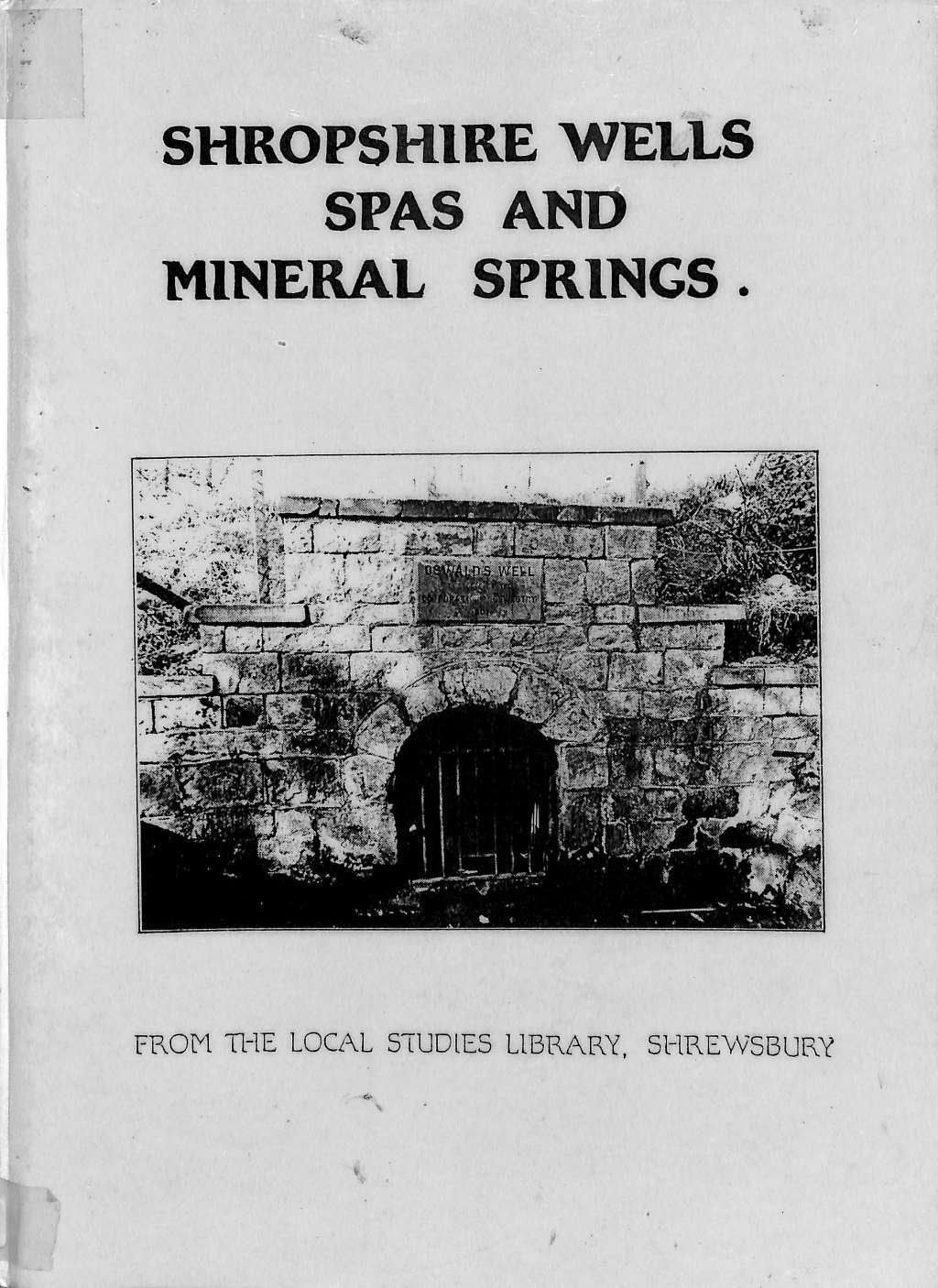 Shropshire Wells and Mineral Springs by Anonymous (undated). I have no knowledge of what this book is like as I have been unable to find a copy.
Somerset         
Somerset Holy Wells and other named wells by Dom. Ethelbert Horne (1923) A delightful book with some good   photos and detailed accounts of most of the sites. This still useful in helping research wells in that county as Horne gives good descriptions to where they are located.  Pick up a copy   if you can although it is difficult to locate.
Holy Wells of Bath and Bristol Region (Monuments in the Landscape) by Phil Quinn (1999) One of the best county guides, informative, full of pictures   and instructions, an   example of how to do it well! Just the right size to use in the field and absolutely essential if visiting Gloucestershire or Somerset.
Healing Waters: The Mineral Springs and Small Spas of Somerset by Geoffrey Body and Royal Gallop (2005) An excellent little volume which fills in the gaps left by Horne and well written and researched.
The Waters of the Gap – the Mythology of Aquae Sulis by R. J. Stewart (1981) An interesting analysis of the legendary history of the famed hot springs.
Ancient Springs, Streams and underground watercourses of the city of Wells by W. I Stanton
Hot Springs of Bath: Investigations of the Thermal Waters of the Avon Valley by G.A. Kellaway (1991)
The Chalice Well, Glastonbury by F Hardcastle (1951). Often reprinted by the Chalice Well Trust a good history of the noted site.
The Enchanting Place: Facets of the Chalice Well by Ann Proctor (2006) A New Age analysis of this sacred space and place.
The Red & White Springs of Avalon: A Guide to the Healing Waters at Glastonbury by Nicholas Mann and Philippa Glasson (2010)
The holy well and the Chapel of St Anne in the Wood, Brislington, Bristol by Ken Taylor an excellent book much recommended.
Staffordshire 
'The church and well of St Chad' by J.A Langford (1896), in William Andrews, ed, Curious Church Gleanings.
Suffolk 
Holy Wells and Ancient Crosses of Norfolk and Suffolk by Michael Burgess (1978) East Suffolk & Norfolk Antiquarians Occasional Paper 2. A rare and valuable item which I have never seen for sale!
Surrey
The Holy Wells of Surrey by James Rattue (2008) Last, unfortunately so he tells us, of James's county works, but what a way to finish. I was researching the county myself  but so glad I didn't finish it! James yet again reveals a number of   very   interesting sites in a county you wouldn't expect there to be any  including the folly Bonspring font, which is on my to do list!
Sussex – East and West – no book yet!
Warwickshire – no book yet!
Worcestershire
Aquae Malvernensis  by Cora Weaver and Bruce Osbourne (1994) A great history and guide to all wells, springs and pumps of this great place for well enthusiasts.
Springs, Spouts, Fountains and Holy Wells of the Malverns by Bruce Osborne and Cora Weaver (1997)The  authors have carved a niche in works on both mineral springs and in particular the Malverns. This is a brief field guide to the sites in the Malverns as a more fieldwork friendly guide to the above excellent work. 
Celebrated Spring of the Malvern Hills by Bruce Osborne & Cora Weaver  (2012) Photographs, old drawings & detailed maps tell the story of Malvern's spring water & it's rich & long history
Yorkshire
Yorkshire Holy Wells and Sacred Springs by Edna Whelan and Ian Taylor (1989) A brilliant and vital if in the county with very   useful field guide notes and   instructions and black and white drawings, a work with again is part of the   New Age revival with some generalisations but this notwithstanding as a region by region guide nothing has come close, bar the second authors website updates.
The ancient springs, streams of East Riding of Yorkshire by Rev E. Smith (1923) A rare but important   work, despite being by a vicar is a balanced approach to the   subject.   Each site is covered with copious notes regarding their history and the author attempts field work.
 Holy wells and spas of South Yorkshire by Robert Wilson (1990) A privately published work,   rather lacking in photos but high on details of   extant and lost sites   in this 'modern' county. It includes spas and sites   associated with  folklore despite the title and is very useful as a field   guide. Pick   it up if you can.
The Wells and Springs of Leeds by Feorag NiBride (1994) A rare piece and as such I have not seen a copy!
Historic Wells in and Around Bradford by Val Shepherd (1994) Despite being restricted to these   areas of Yorkshire, this is a brilliant work. Well researched, copiously   illustrated with photos, illustrations and particularly useful maps, this is   a work of art
Holy   Wells of West Yorkshire and the Dales by Val Shepherd (2002) Covers some of above but goes into other areas. Some sites covered not covered elsewhere and again has some useful illustrations.
 Spadacrene Anglica: Or, the English Spa Fountain by Edmund Deane (17th century) Edited by John Rutherford and Alex Butler (1922)
Coming soon Non-British holy well books!