Blog Archives
In this second post on the town's noted water supplies we turn to its chalybeate spring. Like many of the towns, Folkestone made a bid to develop into a spa town. In the town a Chalybeate Spring is noted by Seymour in his 1776 Survey of Kent:
"At a place called Foord, a quarter of a mile distant west from Folkestone, is a fine salubrious spring of water, which has all the virtue and efficacy of the chalybeate being impregnated with iron in a degree equal to the Tunbridge Water. It has been proved with success by Dr Gill, operates by urine and perspiration, and is of infinite service in cold chronic distemper, weakness, and bad digestions."
He describes it as:
"CHALYBEATE SPRING which although uninviting in appearance from its ferruginous aspect is much resorted to in cases of stomach affection and nervous debility after a long illness The component parts of this water are Carbonic Muriatic and Sulphuric Acids Soda Lime Magnesia and Iron which occur in the following order Carbonate of Soda, Carbonate of lime, Muriate of Soda Carbonate of Soda Carbonate of Lime, Muriate of Soda, Muriate of Lime, Sulphate of Soda, Carbonate of Iron The water is principally alkaline from Carbonate of Soda the quantity of Muriate is small The charge for drinking it is very moderate."
In L. Fussel's 1818 Journey round the Coast of Kent:
"such an accidental circumstance that which first brought Tunbridge wells into repute is only wanting to give celebrity to the chalybeate water at Foord, and make the fortunes of Mr Holmes, a very civil, attentive and intelligent master of the Red Cow near the spot."
As noted thus in 1815, the said Red Cow landlord, William Holmes, obtained a license to bottle and sell its waters. Seymour (1776) suggests that the site could be made a valuable spa, suggesting suitable accommodation at a Mr. James Bateman's White Hart Inn.. Yet, whether he was basing his views on any tradition.  It was said that the best time to drink the water would be in the morning, taking a further two or three glasses through the day. It was often mixed with milk or even brandy to make it more palatable!
Amongst the diseases Foord's water could cure were:
"diarrhoea, gout, rheumatism, flatulence, gout, rheumatism, scurvy, blood fluxes, dysentery, bleeding of piles, lowness of spirits, weakness of the nerves, want of appetite, indigestion, habitual colic, vomiting, jaundice, dropsy, nephritic disorders, asthma and scorbutick cases".
By 1850 a mock castle had been built as a pump room by Mr J G Breach of Pavilion Hotel, but the lack of baths, and entertainers and the rise of sea bathing lead to its demise! Sadly he did not make his fortune, moved on, but the Silver Spring Mineral Water Company, did move to Foord Road in the 1890's., remembered by a plaque over what was Crown European Upholstery, now closed itself. Indeed, when Dr Augustus Granville was researching for his 1841 The Spas of England and Principle Sea Bathing places he missed it
The spring has long gone, a row called Chalybeate row being built on the site, until 2012 a pub named after the Mock Castle survived to remember Folkestone's attempt to become a spa town' but this too has gone!
The seaside Kent town of Folkestone has three notable water sites The first is perhaps the commonest picture postcard available and there are several versions as can be seen here. This is surprising as the site is not particularly well known or celebrated. Indeed its' provenance may be perhaps a little dubious.  This is the Holy Well or St. Thomas's Well (TR 221 382) is. Its first description by S. J. Mackie in their 1856 Handbook of Folkestone gives the greatest detail and describes the scene around the well:
"Whence we look down its sheep trodden sides into the deep dell, where, sheltered by the rank rushes lie the dark un-ruffled waters of Holy Well. Do these raise tracings on the grass cover the remains of some lonely hermitage. The Country people tell you something about the pilgrims to Becket's Shrine, it is called also St. Thomas's Well, resting here on their way to Canterbury."
Watt (1917) in discussion of the town notes in Canterbury Pilgrims and their ways:
"..also on the hills above it we have St. Thomas's Well, but such are scattered all over the district."
Samuel J Mackie records in 1856 A description and historical account of Folkestone
"Sheltered by the rank rushes lie the dark waters of Holy Well Do those raised tracings in the grass cover the remains of some hermitage The country people tell you about the pilgrims to Becket's shrine it is called St Thomas's Well resting here on their way to Canterbury I confess it seems to me slightly out of road but there it is and all I can tell about it is there is nothing now to be told."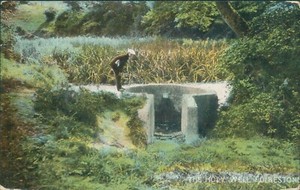 In the 1865 an illustrated hand-book to Folkestone and its picturesque neighbourhood by H Stock
"A short distance from this to the immediately at the bottom of Sugar Loaf Hill a remarkable spring of beautiful water known as Well or St Thomas's Well Why so called saith not By some it is thought that it was resting place of the pious souls who worshipped shrine at Canterbury but how those worthies here cannot be conjectured It is now used as sheepwash".
This latter point would explain the odd concrete structure, now lost, seen in some postcards.
In the 1925 Wonderful Britain by John Alexander Hammerton he noted:
"Folkestone's Holy Well, sometimes called St. Thomas's well…the old highway to Canterbury runs close by and tradition says that pilgrims to the shrine of St Thomas a Becket used to drink here and that Henry II himself did so when he went to do penance at the Cathedral whose Archbishop he had murdered and martyred."
When visiting in the 1990s the information board states that the name holy well is a modern name for these springs, and 80 years ago one was called St. Thomas's Well but the account above disagrees. There appears to be some confusion over the site. Consequently it is difficult to pinpoint the exact site. I was informed by a local in his late 60s that, when he was a boy, the second now dry spring was called Holy Well. The spring arose in a deep gully, now covered with bramble and heavily eroded at the source. However, continuing the path around to the base of the hill, one comes across a large pool, fed by all the springs. This is the site called the Holy Well on an early 1900s postcard. So perhaps there were two sites after all?
When William Parsons of the excellent British Pilgrimage Trust visited the site was largely overgrown and derelict as can be seen here in 2016, he repairing it with some stones found around which may have been part of the original structure.
Next time we shall be exploring Folkestone's attempt to develop a spa.